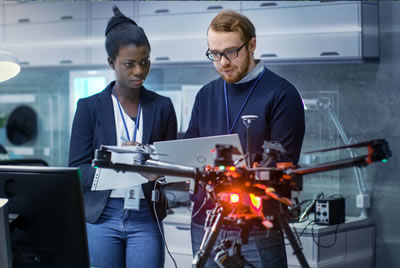 Research is not just a way to develop new technologies, it is a way to walk together with our customers creating added value. Testing is much more than improving knowledge, it is the capacity to develop customized solutions. Innovation is much more than a technical goal; it is our way of making the difference, providing unparalleled services.
We proud ourselves in employing the most technologically advanced UAVs and software available on the market, that our researcher & computer scientists have further improved and customized to deliver unmatched solutions to the industries we serve.
For industrial applications, our UAV fleet features a number of customized Matrice 200 RTK equipped with the most advanced video and thermal cameras paired with our multipurpose in-house developed software suite X-Air. For other sectors, our UAV fleet features a number of Inspire 2, equipped with the state-of-the-art cinema quality video cameras.